Podcast: Play in new window | Download
Subscribe: Apple Podcasts | Google Podcasts | Spotify | Amazon Music | Android | Stitcher | RSS
Following wedding makeup trends is what fuels Essie Cohens' passion for her artistry. Essie brings confidence and ease to every client she meets and she's on a mission to make each bride's wedding day an experience they'll never forget. After years in the corporate makeup industry, Essie branched out by developing her own luxury cosmetic service. Essie now has a team of like-minded artists who want to empower women, in every sense of the word. They are actively working to support women-run businesses, networking, and building confidence within their female-driven clientele. The goal at Essie Cohen Makeup LLC is to grow, inspire, and impact as they work to enhance your natural beauty.
Building relationships with her brides and making their special day an experience they'll always remember is another passion of Essie's. Answering questions and offering skincare tips prior to the wedding as well as shielding the bride from pushy family members on the wedding day itself is all part of the job that she's honored to do. As a result of making each bride look spectacular, Essie's brides often book her for other milestone events because of the relationship she builds with each person.
Wedding Tip:
Be willing to take advice on colors and makeup styles that will suit your features! Essie welcomes when her brides bring in photos as inspiration. However, with her years of makeup expertise, Essie knows what will (or won't) work with a bride's facial features or coloring. What looks beautiful in a photograph can often translate differently in real life. Essie's mission is to always be honest with her brides and offer different suggestions that will better suit that bride's vision for her big day.
Contact Essie:
Email: essiecohenmakeup@gmail.com
Samples of Essie's Work: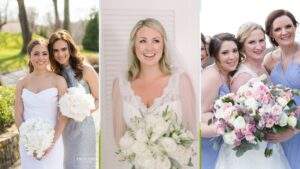 Want more wedding talk?
Join the Fan Club to get the most recent episode updates plus other fun stuff. Add your email here or in the sidebar >>