Podcast: Play in new window | Download
Subscribe: Apple Podcasts | Google Podcasts | Spotify | Amazon Music | Android | Stitcher | RSS
When I graduated college back in 1990, I 'had my colors done'. A friend of my mother's started a little boutique out of her home and offered personal color analysis. I don't remember much about that experience but I left with a wardrobe that were my 'perfect' colors that I could mix and match for my new job in NYC.
I was thrilled to find out personal color analysis is still going strong all these years later! My guest in this episode is Dana Hammond from First Coffee Then Colors. She shares how brides can find their perfect wedding dress color when they know their season and which shades of white will perfectly compliment their complexion and hair color.
Yes, there ARE different shades and hues of white! You've got the pure white that most people think of for a wedding dress but then there are various hues of ivory, champagne, cream, bone…the list goes on. And each of these colors have different undertones to make each one look different.
It's enough to make your head spin but that's why we rely on experts! Get your personal color analysis done before dress shopping and you can tell your dress consultant which hues to bring out. When you know the best colors ahead of time, then you can have more fun looking for the perfect style dress instead of overthinking the color.
Going even further, personal color analysis can help your beauty team choose the best makeup palette and hair color so you're glowing with confidence on your wedding day.
Wedding Tip:
Dana is a loyal listener and echoed a previous guest who said to focus your budget on the things that matter most to you. If food is most important, don't find the cheapest chef. If your dress and venue are most important, then you can go with fewer flowers. Let your wedding be a reflection of what you as a couple value the most.
Contact Dana:
Website: https://firstcoffeethencolors.com
My Personal Before/After Photos:
It's not often I'll post a no-makeup photo on the web! I'll have a blog post coming soon about my experience getting my colors done with Dana. It was fun and I was surprised when she told me my season.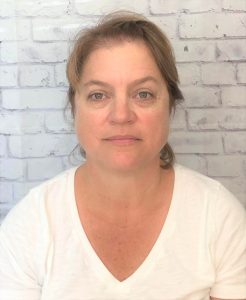 Want more wedding talk?
Join the Fan Club to get the most recent episode updates plus other fun stuff. Add your email here or in the sidebar >>