Podcast: Play in new window | Download
Subscribe: Apple Podcasts | Google Podcasts | Spotify | Amazon Music | Android | RSS
Wedding invitations are often one of the last things couples think about while preparing for their wedding but my guest today argues that they should be among the FIRST things on your list to plan for…especially if you want to excite your guests with luxury handmade wedding invitations!
My guest today is award-winning designer Laura Damiano of Laura Damiano Designs in Westchester County, NY. Laura dove into the design and printing worlds with little first-hand knowledge and created a worldwide business name for herself! Her mission for every couple is to craft a one-of-a-kind invitation that makes their guests excited to attend their wedding. If your invite doesn't create FOMO, is it really working?
We also discussed a popular 'high tech' feature that she can work into any wedding design and the popular trend of creating a website for your special day. I also love her story of how she assisted a client with the mailing of her invitations. You'll have to listen in to hear the WHY behind that story!
With the focus these days on personalizing your wedding in every way possible, what better way than to create a truly unique wedding invitation. Laura's designs are one-of -a-kind and her policy is never to duplicate an exact design for two clients. Similar features might be used but the designs are always unique to each couple. Talk about a truly special memento.
Wedding Tip:
Respect your timelines! When you ask a wedding vendor for rushed timing, you also affect their other client timelines. Mistakes (and stress) often occur when timelines are rushed, so err on the side of booking too early.
Contact Laura:
Email: hello@lauradamianodesigns.com
IG: @lddesigns
Pinterest: @LauraDamianoDesigns
Samples of Laura's Work: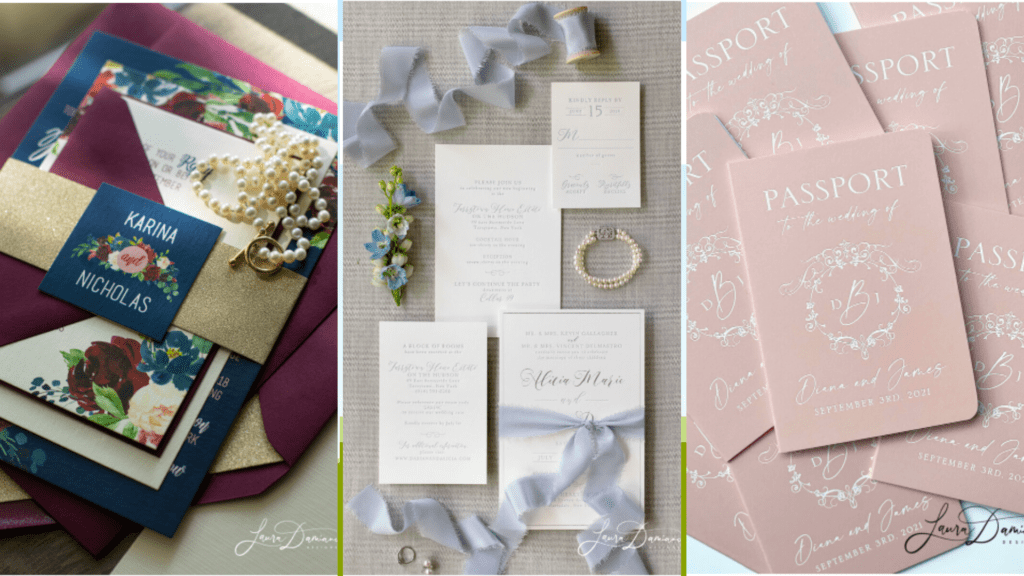 Want more wedding talk?
Join the Fan Club to get the most recent episode updates plus other fun stuff. Add your email here or in the sidebar >>