Podcast: Play in new window | Download
Subscribe: Apple Podcasts | Google Podcasts | Spotify | Amazon Music | Android | Stitcher | RSS
Vintage wedding jewelry never goes out of style…even if all the home improvement shows on television make you believe that everyone loves modernism and all things new.
Just like fashion and these home trends, what goes around, comes back around. What was once popular and then poo-pooed as 'outdated'  is now making a recurrence among the younger generation. As such, many brides are opting for a vintage bridal look, including the jewelry they wear.
Vintage doesn't necessarily mean the big, gaudy costume jewelry of our grandmothers. Think instead of jewelry that is timeless and that complements a wedding look instead of becoming the center of attention.
My guest today is Suzie Fromer, a jewelry designer who shares her love of pearls and designing vintage-style pieces that are inspired by the shows Bridgerton and Downton Abbey. Suzie learned at an early age to embrace sustainability and to repurpose old items as something new. She has an appreciation for the vintage look and designs custom pieces for weddings and for everyday wear.
Brides who want a custom piece of jewelry are not relegated to shopping only at the big box stores for cookie cutter jewelry that every other bride has. Suzie has a talent for designing elegant, vintage jewelry as well as repurposing or repairing jewelry from a loved one that a bride wants to incorporate in her look.
As an added bonus, I learned what a "repair cafe" is and how you can find one in your neck of the woods!
Wedding Tip:
Choose what YOU want! From the dress, venue, jewelry, and honeymoon, the most important people (and the only ones whose opinions matter) are the couple themselves. If the bride has a particular look in mind, she should stand firm when others try to sway her in another direction. While it may be nice to receive validation from a mother or best friend, this is YOUR day.
Contact Suzie:
Etsy Store: LittleHookCo
IG: @littlehookco
FB: @LittleHookCo
Samples of Suzie's Work: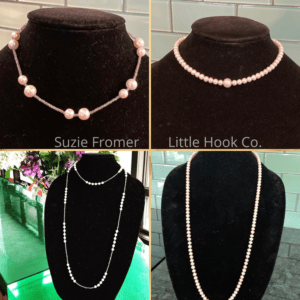 Want more wedding talk?
Join the Fan Club to get the most recent episode updates plus other fun stuff. Add your email here or in the sidebar >>