Food plays such an important part of most weddings but planning your wedding menu can be stressful. Finding an experienced caterer whose personality and style meshes with your own is half the battle to planning a wedding menu that will satisfy you and your guests.
Chef Yolanda Lee knew at an early age that her love of food would become her career. In today's episode we have some good laughs as Yolanda shares how she gets creative in the kitchen. She also shares two serving ideas that will save you money in your wedding food budget.
Not sure what you want to serve at your wedding? No worries! Yolanda can create a menu incorporating a wide variety of foods, even from two different cultures or geographical regions. This is where creativity comes into play as well as intricate knowledge of flavors and seasonings so your wedding menu comes together in a harmonious display.
Plus, I learned what a "grazing table" and a "china box" are…you learn something new everyday!
Podcast: Play in new window | Download
Subscribe: Apple Podcasts | Google Podcasts | Spotify | Amazon Music | Android | Stitcher | RSS
Wedding Tip:
Take advantage of the consultation call. This is your chance to get a feel for your caterer's style, personality, food specialties, and creative talent. Bring your cuisine likes and dislikes to the call and don't be shy about telling them about your budget. The first call is the best time for the caterer to tell you whether your food choices can fit into your budget.
Common Sense Tip:
Focus on your wedding menu and finding a caterer early, especially if you have a particular person in mind. At least get on their calendar early…menu planning might take place closer to the wedding but caterers can book out far in advance, so put catering high on your priority list.
Contact Yolanda:
Website: https://hungryfortravel.org/
Phone or Text: 718-864-7687
Email: hungryfortravel421@gmail.com
FB:@MrsLee421
Samples of Yolanda's Work: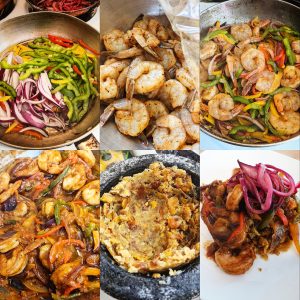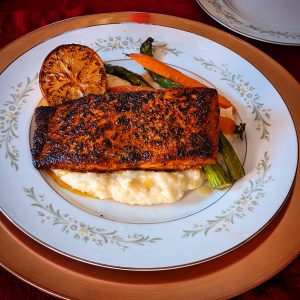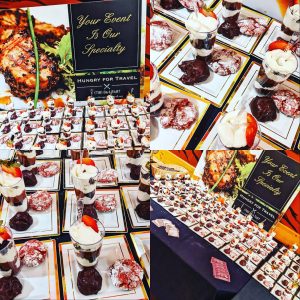 Want more wedding talk?
Join the Fan Club to get the most recent episode updates plus other fun stuff. Add your email here or in the sidebar >>